May 1, 2022 – Published by AEC EUROPE
Ram 1500 EcoDiesel in Europe. AEC EUROPE pilots a program in several countries
In an effort to continue bringing innovative solutions to the market AEC EUROPE and Stellantis have agreed to introduce the Ram 1500 EcoDiesel into the European market.
The pilot project is aimed at assessing demand for a more powerful and more efficient powertrain with the 3.0 V6 Turbodiesel engine fitted on all trims of the Ram 1500 22MY.
Select dealers have been chosen to run the pilot program and if you are looking for a diesel truck make sure you contact us.
A full-size half ton truck, now with diesel
The 2022 Ram 1500 is America's most powerful half-ton diesel pickup, with 651nm of torque, and most capable light-duty diesel, with towing capability up to 3,500 tons. The all-new third-generation 3.0-liter V-6 EcoDiesel is also the most fuel efficient Ram 1500 truck available on the market.
"The new Ram 1500 EcoDiesel is America's most powerful half-ton diesel pickup, following up on Ram's Heavy Duty torque leadership and achieving what no other manufacturer has, with up to 651nm of torque in a 3.0-liter engine," said Reid Bigland, Head of Ram Brand. "The all-new EcoDiesel engine and our eTorque mild-hybrid powertrain technologies deliver the highest available fuel efficiency for our Ram 1500 customers."
The 2020 Ram 1500 EcoDiesel is available in all models and configurations, including a first-time offering in the Ram Rebel.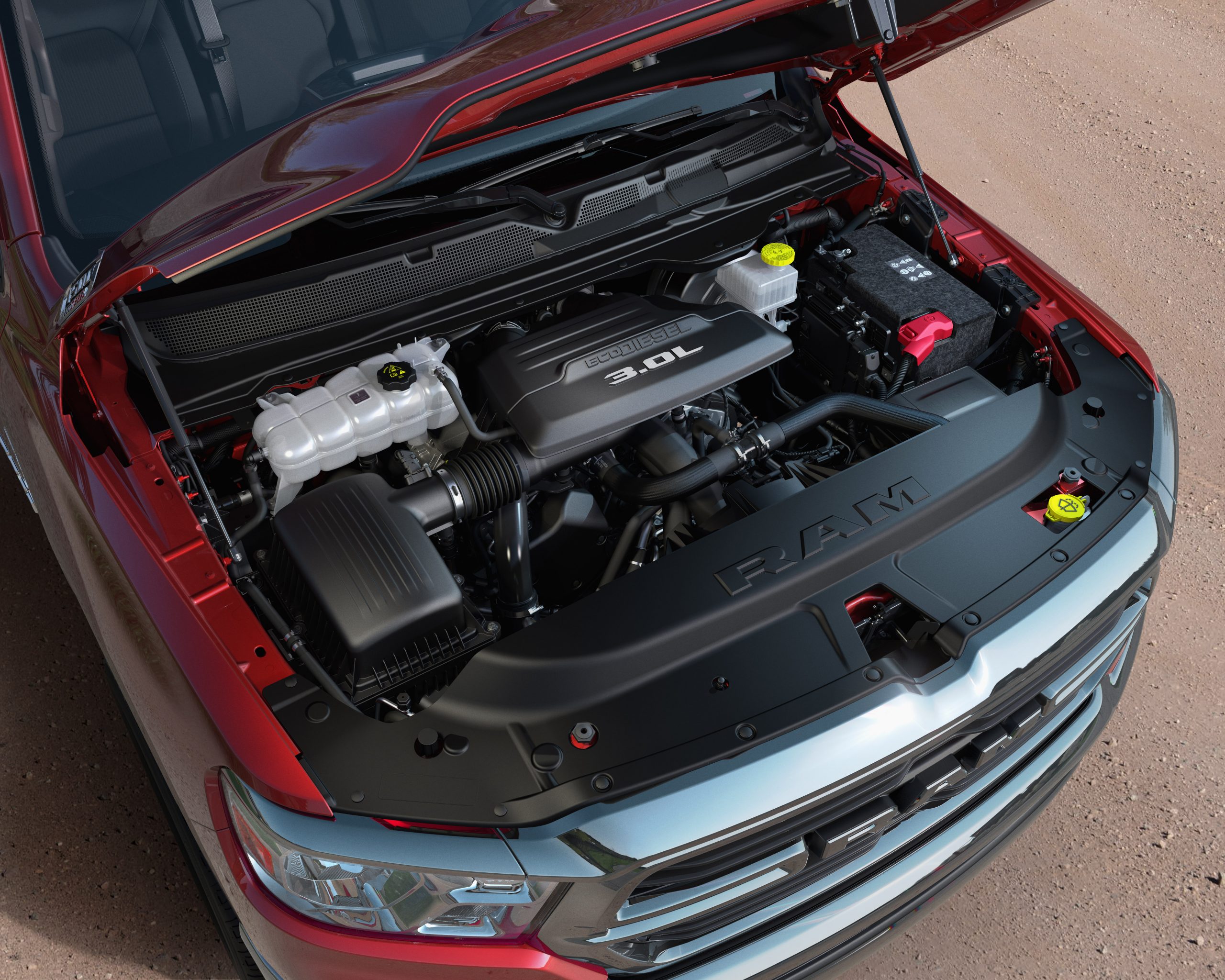 Several significant changes contribute to the new EcoDiesel's improved dynamic and fuel economy performance.
A new-generation water-cooled turbocharger with variable geometry turbine (VGT) increases efficiency and responsiveness during transient conditions
Redesigned cylinder head intake ports improve swirl and flow, increasing performance and fuel economy
The exhaust gas recirculation (EGR) system design has been updated to a dual loop (low and high pressure) system. The added low-pressure circulation system draws gases after the diesel particulate filter, thus minimizing turbocharger energy losses, which increases fuel economy
The compression ratio has been optimized to 16.0:1 from 16.5:1
High-pressure (29,000 psi/2,000 bar) direct-injection fuel injector nozzles were redesigned to match the newly designed and optimized combustion chamber
Lightweight aluminum alloy pistons were completely redesigned to include thinner rings and low-friction coating on the pin and side skirts to reduce losses
NVH has been reduced by offsetting piston pin by 0.3 millimeters from the centerline; thus, minimizing mechanical noises
The lower portion of the two-piece oil sump uses a lightweight sandwiched polymer/metal material that further reduces NVH
The dual vacuum pump system uses electric and a new mechanical low-friction pump with new blades that improve overall system efficiency
New Ram 1500 EcoDiesel produces highest half-ton diesel torque, achieving 651nm and highest available half-ton diesel towing capacity at 5,697 tonnes
EcoDiesel-powered Ram Rebel offered for first time
Ram pickups own the top spots in torque ratings with 651nm (light duty) and 1,356nm  (heavy duty)
Class-exclusive air suspension enhances fuel economy, improves ride control and off-road capability, along with entry/exit and loading, and features automatic load leveling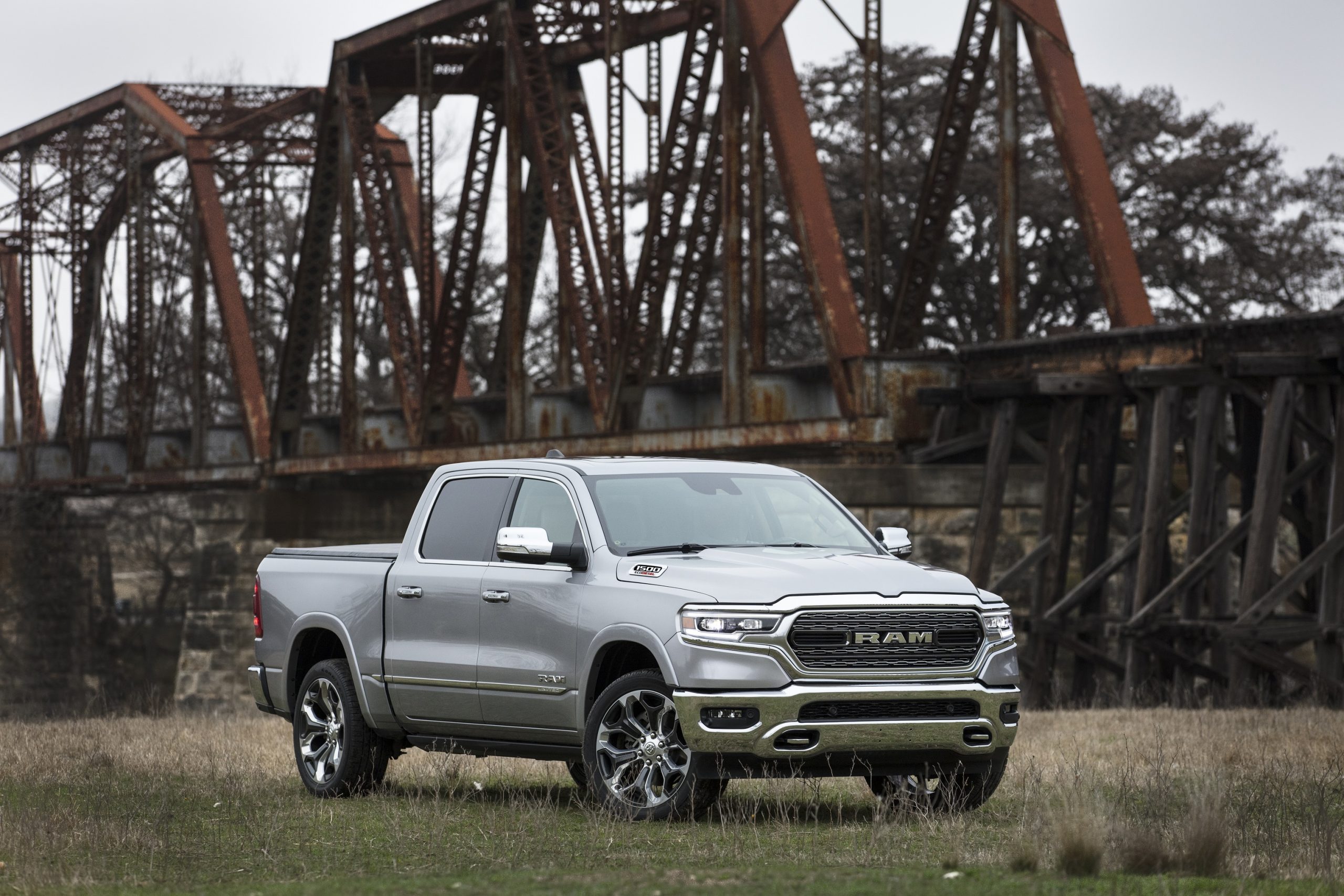 The third generation of the turbocharged 3.0-liter EcoDiesel V-6 delivers increased torque and horsepower, along with superb fuel economy and minimal levels of noise, vibration and harshness (NVH) to meet the needs of Ram 1500 owners.
In the 2020 Ram 1500, the 3.0-liter EcoDiesel V-6 is rated at a best-in-class 480 lb.-ft. of torque at 1,600 rpm, a 14 percent increase from the previous-generation EcoDiesel V-6 that peaks 400 rpm earlier. Horsepower increases 8 percent to 260 hp at 3,600 rpm.
The 3.0-liter EcoDiesel V-6 uses dual overhead camshafts (DOHC) with four valves per cylinder and a 60-degree angle between the cylinder banks. The block is cast with compacted graphite iron, which provides strength to dampen vibrations, but weighs less than grey cast iron. A compacted graphite iron bedplate adds rigidity to the block.
The EcoDiesel V-6 uses a forged steel crankshaft and connecting rods for strength and durability. The aluminum alloy pistons are cooled on the underside via oil jets. Heat-treated aluminum cylinder heads use individual bearing caps to reduce friction and minimize NVH. The chain-driven overhead camshafts employ roller-finger followers.
The 3.0-liter EcoDiesel V-6 is produced at the FCA Cento facility in Ferrara, Italy.